Solenoid Valve Supplier

inquiry@ato.com.cn

1. Close the front and rear gate valves of the main valve of the water solenoid valve.
2. Loosen the pipe joint screw on the main valve cover to release the pressure inside the water solenoid valve.
3. Remove all the screws of the water solenoid valve, including the nuts of the copper tubes in the control pipeline.


The solenoid valve is a device that controls the opening and closing of liquid, gas and steam by energizing and de-energizing the coil.

The following is listed some problems of pilot-operated solenoid valve and the possible causes and troubleshooting.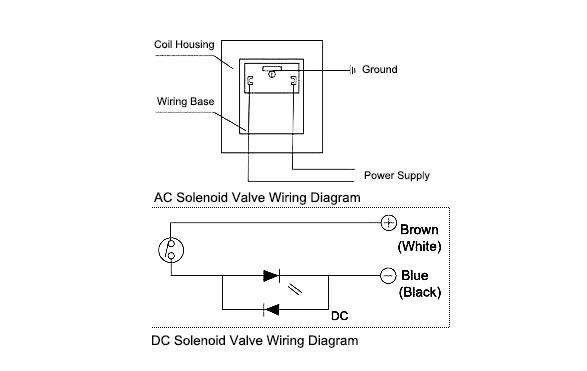 The solenoid valve is an industrial tool used to control basic automatic elements of fluids. As an actuator, it is used to adjust the direction, flowing quantity, speed and other parameters of the medium in the industrial control system. Electromagnet is a device which can generate electromagnetism after switch-on. The iron core is wrapped externally with the electric conduction winding consistent with its power.


The steam solenoid valve refers to the solenoid valve with the steam as the medium. The steam can be divided into two types: boiler steam - saturated steam and steam from the thermal plant - superheated steam. The saturated steam has relatively steady temperature and pressure. The temperature is lower than 250℃, and the working pressure is lower than 1.6Mpa. The superheated steam has dramatic changes of temperature and pressure. The maximum temperature can reach above 400℃, and the working pressure is lower than 4.0Mpa.
The water solenoid valve is applicable to the working medium, such as water or other liquids, to automatically control or realize remote control of the switch-on and switch-off of the working medium, such as water, hot water, cold water and waste water. It is applicable to the clean water transmission pipelines from different departments, such as dyeing and printing, clear water, electricity, petroleum, chemistry, metallurgy, textile, food, ship-building, medical care, environmental protection, and urban sectors.

The following part mainly introduces how to install the solenoid valve.
1. Read the product manual before installation. Check whether the product in line with use requirements. Keep key installation points in mind. Make good preparations for installing.


The slide valve of the single solenoid valve features the spring resetting. After the solenoid valve is disconnected with power, the solenoid valve automatically resets. The double solenoid valve requires the coil on the other side to get electrified before its transposition.
The single solenoid is switched on under constant power-on and air inlet, while the double solenoid is switched on at instant power-on.