Solenoid Valve Supplier

inquiry@ato.com.cn
24V DC Brass Solenoid Valve 2 Way Normally Open for Water Oil Air
ATOSolenoidValve.com would like to introduce another series of 2/2 way water solenoid valve. This series is Normally Open type, that is, the solenoid valve is closed when the power is on, while it is open when the power is off. If the pipeline need to be open for a long time, this normally open solenoid valve will be your choice. The solenoid valve can be powered with 24V DC, and has brass body and NBR seal. With wide selection of port sizes, it can meet different needs of pipelines. The following is product information for your reference.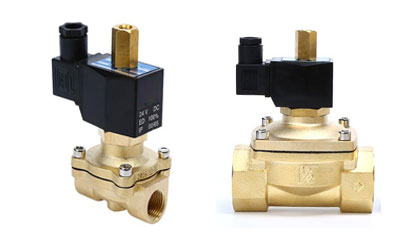 2 Way Normally Open Brass Solenoid Valve Specification

Model
2WK160-10
2WK160-15
2WK200-20
2WK250-25
2WK350-35
2WK400-40
2WK500-50
Valve Type
2 Way 2 Position, Normally Open
Media
Water, Oil, Air
Operation Mode
Pilot-operated
Port Diameter (mm2)
16
16
20
25
35
40
50
Flow Rate (Cv)
4.8
4.8
7.6
12
24
29
48
Port Size
G3/8"
G1/2"
G3/4"
G1"
G1¼"
G1½"
G2"
Fluid Viscosity
Under 20 CS
Operating Pressure
Water, Oil: 0~0.5MPa Air: 0~0.7MPa
Max. Pressure Resistance
1.0MPa
Power Supply
24V DC (Optional: 220V AC)
Voltage Tolerance
±10%
Operating Temperature
-5~+85℃ (23~185℉)
Body Material
Brass
Seal Material
NBR
Coil Power
20VA
***If you want more information about ATO solenoid valve or buy it online, please contact us
now.
This series solenoid valves are pilot-operated. The solenoid valves have two types, direct-acting and pilot-operated, based on different working principle.
The direct-acting solenoid valve is usually used to control small diameter and low pressure.This kind of solenoid valves can be opened without pressure difference of medium (i.e. no starting pressure) or zero pressure. Therefore, the starting speed of the direct-acting solenoid valves is faster than that of the pilot-acting solenoid valves, especially for pipes requiring quick shut-off.
The pilot-operated solenoid valves are generally suitable for the situations with pressure difference, high pressure and large diameter. This structure of solenoid valves need a certain starting pressure. If there is no pressure difference, only the pilot hole of solenoid valves can open, but the main valve can not open.
From the difference between the direct-acting solenoid valve and the pilot-operated solenoid valve, the pilot-operated solenoid valve can withstand more pressure than the direct-acting solenoid valve, while the direct-acting solenoid valve has faster start-up speed than the pilot-operated solenoid valve, and does not need start-up pressure. When choosing the solenoid valve quick shut-off or low-pressure use, the direct-acting;solenoid valve is recommended. If the pressure difference is large, and the pressure is high or the caliber is large, the pilot-operated solenoid valve is recommended.