Solenoid Valve Supplier

inquiry@ato.com.cn
12V DC 2/2 Way Stainless Steel Solenoid Valve for Water Oil Air
Soelnoid valves are made of different body materials and seal materials according to different media properties. The common body materials are brass, stainless steel, plastic and so on. The stainless steel solenoid valves are used in medical devices, analytical instruments, sulphur meters, water dispensers, humidifiers, semiconductor equipment, filling equipment, generators, kiln burners and other industries. Now we will introduce a series of stainless steel solenoid valve.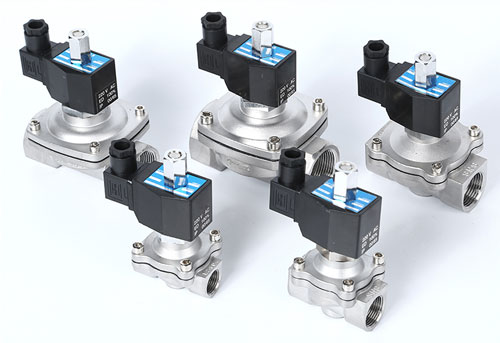 This is a series of 2-way 2-position solenoid vavles that have body material of
stainless steel and seal material of NBR
. It is a pilot-operated mode and control the on-off water and oil under the pressure of 0 to 0.5MPa and switch on-off the air
under the pressure of 0 to 0.7MPa
. The stainless steel solenoid valve is normally open type, the
solenoid valve
is closed when it is energized and it is open when de-energized. It is available DC 12V, 24V or AC 220V. The stainless steel solenoid valve is characterized with simple structure, easy installation, high reliability and long service life.

2/2 way Stainless Steel solenoid valve specification
Model
2WBK160-15
2WBK200-20
2WBK250-25
2WBK350-35
2WBK400-40
2WBK500-50
Valve Type
2 Way 2 Position, Normally Open (N/O)
Media
Air, Water, Oil
Operation Mode
Pilot-operated
Port Diammeter (mm2)
16
20
25
35
40
50
Flow Rate (Cv)
4.8
7.6
12
24
29
48
Port Size
G1/2"
G3/4"
G1"
G1¼"
G1½"
G2"
Fluid Viscosity
Under 20 CS
Operating Pressure
Water, Oil: 0~0.5MPa Air: 0~0.7MPa
Max. Pressure Resistance
1.0MPa
Voltage(Optional)
12V DC, 24V DC, 220V AC
Voltage Tolerance
±10%
Operating Temperature
-5~+85℃ (23~185℉)
Body Material
Stainless Steel 304
Seal Material
NBR
Coil Power
20VA
***If you want more information about ATO stainless steel solenoid valve or buy it online, please contact us
now.
In order to reduce the loss caused by the failure of stainless steel solenoid valves, the troubleshooting is an indispensable job. In the repairing, the stainless steel solenoid valves need to be disassembled and cleaned. There are something to be noticed in the operation process. The following troubleshooting steps would be helpful for users to complete the repair work correctly. The troubleshooting steps of stainless steel solenoid valve are as follows.
1. Check whether the actual working environment temperature and pressure meet the working conditions of stainless steel solenoid valve.
2. Check whether the properties of the medium, such as temperature, viscosity, acidity, alkalinity, viscosity, etc., are within the working conditions of the stainless steel solenoid valve.
3. Check whether the outside of stainless steel solenoid valve is damaged, such as leakage of pipeline, loosening of connection, external damage of valve body, etc.
4. Disassemble parts of stainless steel solenoid valve:
First of all, check whether there are impurities in stainless steel solenoid valve.
Secondly, check whether the structure of stainless steel solenoid valve is loose or not.
Finally, check whether the internal key components such as seal is wear, and whether the solenoid valve coil is damaged, etc.