Solenoid Valve Supplier

inquiry@ato.com.cn
24V DC Steam Solenoid Valve, 2/2 Way Normally Closed
Steam solenoid valve is a 2-way 2-position normally closed solenoid valve and can be used to control the on-off of the media including steam, water and air. It is direct-acting solenoid valve according to the working principle. With brass body material and EPDM seal material, steam solenoid valve can stand the working temperature from -5 to +180℃ (23~356℉). For more detail specifications, please check the below.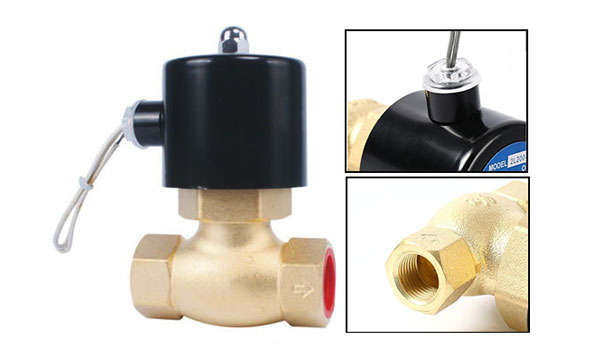 2/2 Way Steam Solenoid Valve Specification
Model

2L170-15

2L200-20

2L250-25

2L350-35

2L400-40

2L500-50

Valve Type

2 Way 2 Position, Normally Closed

Media

Air, Water, Steam

Operation Mode

Drect-acting

Port Diammeter (mm2)

17

20

25

35

40

50

Flow Rate (Cv)

12.6

17.46

27.27

53.46

69.83

69.83

Port Size

G1/2"

G3/4"

G1"

G1¼"

G1½"

G2"

Operating Pressure

0.1~1.5MPa

Max. Pressure Resistance

1.5MPa

Voltage (Optional)

24V DC, 220V AC

Voltage Tolerance

±10%

Operating Temperature

-5~+180℃ (23~356℉)

Body Material

Brass

Seal Material

EPDM

For installing the steam solenoid valve, it should be take much care about it to ensure the solenoid valve operating properly and stably. Here are some tips for installing the steam solenoid valve.
1. Before installing the steam solenoid valve, you must carefully read the product installation manual to have a thorough understanding of the product type, specifications, working environment and other parameters. All these are very important to your
solenoid valve installation
.
2. Before installing the solenoid valve, you should clean the pipeline with water to avoid the pipeline's blocking caused by foreign materials, which can easily cause machinery faults.
3. To provide a favorable environment for the steam solenoid valve installation should avoid installing the solenoid valve in an environment with ponding or whether the water steam can be easily condensed. Such an environment might reduce the occurrence possibility of faults and shorten the solenoid valve's service life.
4. An ordinary steam solenoid valve cannot work in a dangerous and explosive working environment. If the anti-explosion function is necessary to the steam solenoid valve, you should make it clear to the manufacturer in advance.